Haiku Guidelines

Poetry without rules is like a tennis match without a net.
– Robert Frost
Haiku without rules is like a tennis match without a ball!
Haiku is a three-line nature-orientated poem expressing poet's direct experience of something, description of background/surroundings, and an original and deep thought based on it.
The form of 5-7-5 can be used but is not essential.
No title should be given to a haiku.
Make sure your haiku consists of

two distinctive parts,

and not of one or three!
Time: use verbs only in the present or past continuous tenses.
Avoid end rhyme.
Avoid using capital letters and punctuation marks, unless you really have to.
Avoid turning your haiku into an aphorism or an epigram.
Avoid direct metaphors.
Use only common language.
Remove any words you can remove without losing the sense of the haiku.
Try not to use adverbs, pronouns. Avoid using more than two adjectives with the same noun
Avoid using too many 'ing' words (usually no more than two!)
Vary the articles ('a' and 'the'). Don't use too many of them (two is usually quite enough).
Avoid using conditional clauses, e.g. subjunctive mood.
Write about what you see, avoid writing hearsay haiku.
If you want to write a real haiku, use a

kigo.
'Choose each word very carefully. Use words that clearly express what you feel' – JW Hackett
'Never use obscure allusions: real haiku are intuitive, not abstract or intellectual'– JW Hackett
'Lifefulness, not beauty, is the real quality of haiku' – JW Hackett
Haiku Themes (traditional saijiki)

season, climate
astronomy
geography
observances, rituals, traditions
livelihood, life
animals
plants
Qualities (haiku impact)

Lightness, simple beauty (karumi)
Unexpectedness (atarashimi)
Elegance, refinement (fuga)
Drifting mood (nioi)
Season Word (kigo)

Spring:
Cherry blossom, breeze, hazy moon, buds and fresh leaves, streams, birds, butterflies, apricot and plum flowers, something new, etc.
Summer:
Grasshoppers, cicadas, crickets, wind bells, fireworks, kimono, flee, cat, toad, spider, snake, lotus flowers, roses, green grass, etc.
Autumn:
Dragonflies, harvest, sunset, full moon, orchid, chrysanthemum, autumn leaves, fallen leaves, maple, mushrooms, deer, etc.
Winter:
Snow, bonfire, blizzard, frost, icicles, winter rain, duck, bear, gull, pine, stove, etc.
The World Kigo Database is available here:
http://worldkigodatabase.blogspot.com
(Haiku Guidelines first published in Free Xpression (Australia), Vol. XV, Issue 6; June 2008)
© Anatoly Kudryavitsky, 2008


Ten Haiku Lessons

Vera Markova's 'Ten Haiku Lessons'
by Anatoly Kudryavitsky
Vera Markova (1907 - 1995), the Russian poet and academic, was renowned for her translations from classical Japanese poetry. She began translating Japanese tanka and haiku at the end of the 1960s, and less than ten years later published her translations from thirty poets, from Saigyo to Basho to Kobayashi Issa, in the anthology Classical Japanese Poetry, which has since been regularly reprinted in Russia. A very interesting poet in her own right (and a life-long friend of the famous Marina Tsvetayeva), Vera Markova was a fluent Japanese speaker and travelled to Japan twice, on one occasion to receive from Emperor Hirohito an honorary medal commemorating her efforts in promoting Japanese culture abroad.
In her essay entitled Hokku, published in the afore-mentioned anthology, Prof. Markova analysed Basho's work, and in the following years used some of the topics highlighted in that essay in her lectures to university students. She taught them to appreciate Japanese tanka and haiku, but also tried to stir up their creativity.
Later, Prof. Markova wrote a short text offering a few suggestions for aspiring haiku writers. She added a few of her favourite quotations from Basho, and at a later stage even included the opinion I gave while discussing the Hokku essay with her, making me the third partner in that imaginary conversation, which was most flattering. She arranged parts of the text, belonging to its three authors, in a manner resembling that of the old Japanese masters of renga, linked verse. Her students used to call the text Vera Markova's Ten Haiku Lessons..
These Haiku Lessons are reprinted here. I should mention that, as some readers may already have guessed, Vera Markova was the person who once introduced me to haiku, and so started me on an exciting and unpredictable journey.
Allow your reader to think his way into your haiku. A revelation occurs when your and his thoughts meet at a halfway point.

(VM)
Watch the River Sunagawa flow: it is not trying to be deep.

(MB)
Basho

enjoyed reading and re-reading classical Chinese poetry, especially Tu Fu. There's still plenty of water left in that well.

(VM)
Don't follow good dead poets but search for what they searched for.

(MB)
The underlying theme of Basho's work is compassion. He avoided grotesque and mockery, and rightly so.

(VM)
Colour is important in haiku writing, however a 'monochrome' haiku can sometimes have even a stronger effect on the reader.

(AK)
Don't try to be witty every time you write haiku: numerous 'comic' haikai-renga, written over the course of several centuries, are remembered merely because Shiki used the 'hai' syllable for the word 'haiku' that he invented. And bear in mind that 'hai' means 'joke but also 'surprise, an unusual thing'.

(VM)
Hokku can't be assembled from component parts. Poet's work is similar to that of a goldsmith.

(MB)
Basho

became the great poet Basho

only when his hokku reached the state of

karumi

(a Japanese word meaning 'lightness, simple beauty'.)

(VM)
Haiku are always set in the present moment. Nevertheless, listen out for history breathing behind our contemporaries' backs.

(VM)
MB – Matsuo Basho
VM – Vera Markova
AK – Anatoly Kudryavitsky
(First published in Poetry Ireland Newsletter, November / December 2006)
© Anatoly Kudryavitsky, 2006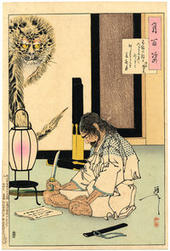 Copyright © by Irish Haiku Society. All rights reserved. All the contents are copyright by the indicated poets/artists. All the rights revert to the authors and artists upon publication on the IHS site. Any unauthorised copying of the contents of this site is strictly forbidden. The IHS logo image is copyright © by Christine Zeytounian-Belous (Paris, France).