Members of the Society






(click above to view their poems in PDF)
Natalie Arkins, Tony Bailie, Amanda Bell, Paul Bregazzi,
Jim Burke, Sharon Burrell, John Oliver Byrne, Andrew Caldicott,
Patrick Chapman, Marion Clarke, Bridie Conway, Sophia Conway,
Evan Costigan, Louise Couper, Marie Coveney, Kara Craig,
Jerm Curtin, Noel Duffy, Stephen Farren, Orla Fay,
Diarmuid Fitzgerald, Ryan Fitzpatrick, Anton Floyd, William Gibb Forsyth,
Fionnan Glynn, Mark Granier, Anna Grogan, Patricia Groves,
Mary Gunn, Carol Hannon, Joe Healy, Nick Hoffman,
Patrick Hopkins, Peter Kay, Susan Kelly, Akagi Kobayashi,
Anatoly Kudryavitsky, Jessie Lendennie, Sean Lysaght
(click above to view their poems in PDF)
Aine MacAodha, James McAuley, Sinéad McDevitt, Clare McDonnell,
Beth McFarland, Walter Daniel McGuire, Paul McGranaghan, Michael Massey,
Tom Moloney, Maire Morrisey-Cummins, Joan Newmann, Kate Newmann,
Nuala NíChonchúir, Colette Nic Aodha, Andrew Michael O'Brien, Sean O'Connor,
Terry O'Connor, Vincent O'Connor, Hugh O'Donnell, Mary O'Donnell,
Síofra O'Donovan, Nora O'Dwyer, Donal O'Farrell, Mary O'Keeffe,
Nessa O'Mahony, Conor O'Neill, Eamonn T. O'Neill, Kate O'Shea,
Catherine O'Sullivan, Thomas Powell, Isabelle Prondzynski, Maureen Purcell,
Alan Reid, Mark Roper, Gráinne Roche, Suzanne Ryan, Breid Sibley,
Helen Simcox, Bee Smith, Tasha Smith, Guy Stephenson,
Martin Vaughan, Sharon Verrall, Aisling White
The selection of haiku & senryu on these web-pages edited by Anatoly Kudryavitsky
Original poems copyright © their individual authors
No part of this selection can be reproduced by any means
without a written permission by the authors
Honorary Members
(click here to access the page)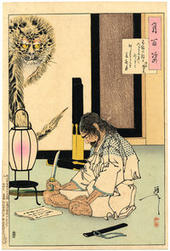 Copyright © by Irish Haiku Society. All rights reserved. All the contents are copyright by the indicated poets/artists. All the rights revert to the authors and artists upon publication on the IHS site. Any unauthorised copying of the contents of this site is strictly forbidden. The IHS logo image is copyright © by Christine Zeytounian-Belous (Paris, France).